Ceres Trust Regenerative Economies Investment Partners
Black Farmer Fund is in the early stages of developing a community investment fund that will provide financing options for black food system actors throughout New York State (NYS). This includes farmers, food distributors, caterers, restaurant owners, composters, vendors etc. The Black Farmer Fund vision is a thriving, resilient food economy in which the consumers and producers of this black food ecosystem participate as community wealth builders, to repair black communities' relationship to food and land. Achieving this vision requires that Black farmers and food business owners benefit equitably from financing, intellectual capital, technical assistance, networking, and public policies.
The idea to create Black Farmer Fund came from two Black farmer-activists meeting at a conference in 2017 and sharing frustrations about the lack of financial assistance available for Black farmers. They decided that there needed to be a means for community members to access capital that recognized the historical discrimination of lending and banking that informs the present reality of Black communities. The Black Farmer Fund is evolving out of a direct request from communities of black food system entrepreneurs to create an instrument that uses capital as a catalyst for social change. The community investment fund will provide access to capital to black farmers and food system entrepreneurs. Over the last century, black farmers have become severely underrepresented in farming and farm ownership. Black farm ownership declined from 15 million acres in 1920 to 1 million acres in 2017. Today, black farmers represent 1.34% of farmers in the United States while the black population across the country hovers around 13.4%.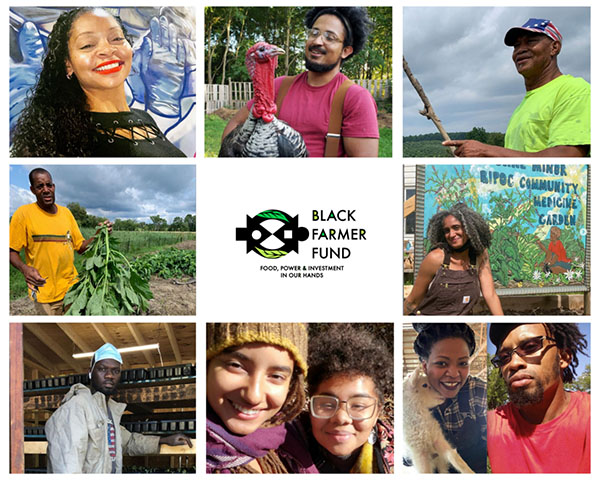 What does it look like for 12 Black food actors to come together at the table (or in this case, zoom!) and make decisions around funding that would significantly impact the future of 8 food businesses in NY? What does it mean for an institution to invest, with the criteria for being funded centered on environmental impact, community well-being, and economic justice? How can honoring the realities that entrepreneurs face by involving them in the underwriting process mean for the impact of investment? Black Farmer Fund, an emerging community-governed investment fund, explored these questions through their recent pilot phase.
2021 was a year filled with growth, learning, deepened relationships, and most notably, our first experience redistributing capital into the hands of black agricultural businesses. We successfully raised a $1M pilot fund from individuals and institutions, and have so far deployed various combinations of integrated capital to eight transformative businesses. We are excited to share with you our 2021 Annual Report!
read more...