Photo credit: Lisa Merton
Deforestation is a major contributing factor to climate chaos, biodiversity loss, soil damage, water pollution, and the destabilization of forest dependent communities. Yet U.S. and global energy and climate policy and practice increase the demand for industrial biofuels and wood, placing forests under threat and pressure. We cannot increase the demand for wood and believe that we will reduce deforestation. We cannot replace forests with genetically engineered (GE) trees and and protect genetic diversity of forests. We cannot replace biodiverse forests with monoculture tree plantations, reliant on pesticides and fertilizers, and imagine that we are protecting soil and water quality, providing essential habitat for biodiversity, or healthy livelihoods for people. Simply put, we must choose. GE trees and tree plantations are no substitute for the myriad complex functions of a forest. A true forest is a wonderful, magnificent wild of the known and unknown and cannot be replaced. Ceres Trust provides support to organizations and movements that protect forests for us all.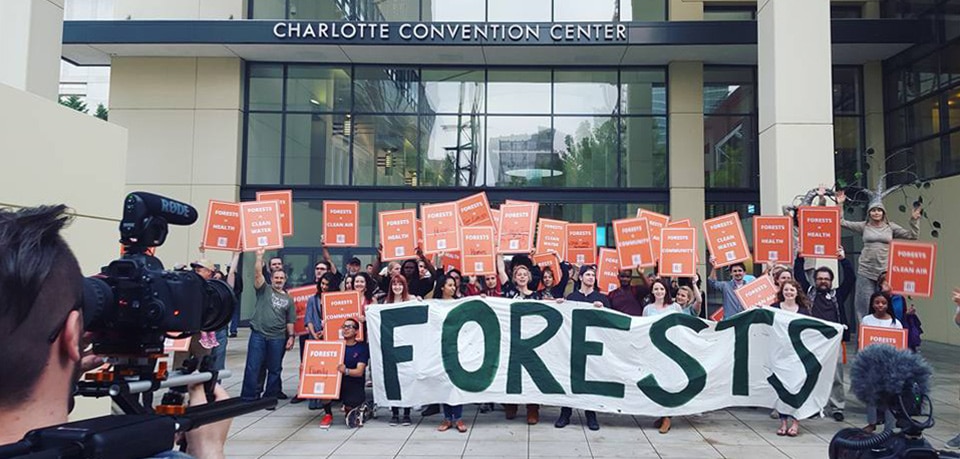 Trees, Trash and Toxics: How Biomass Energy has Become the New Coal, a report by the Partnership for Policy Integrity.
The Restoration of the American Chestnut (pdf): The American Chestnut faced devastation from a fungus (blight), introduced in 1904. After thirty years of traditional plant breeding, scientists have successfully developed a blight-resistant American Chestnut, with the first potentially blight-­resistant chestnuts harvested in 2005.
The BEAI Fund was born out of a shared recognition that in order for the environmental movement to be successful, it must support and resource grassroots groups to institutionalize community-based solutions to the ecological crisis. The BEAI will move $10 million towards advancing the climate and environmental justice movements.
BURNED: Are Trees the New Coal? is a feature-length documentary, which takes an unwavering look at the latest energy industry solution to climate change. The film tells the story of how woody biomass has become the fossil-fuel industry's renewable, green savior, and of the people and parties who are both fighting against and promoting its adoption and use. A film by Alan Mater and Lisa Merton.
Taking Root: The Vision of Wangari Maathai is an in-depth film about Kenyan Nobel Peace Prize Laureate Wangari Maathai.  Made during the last decade of her life, the film portrays how her act of planting trees, along with her commitment to education and the empowerment of women, grew into a nationwide movement for environmental and human rights. Directed and produced by Alan Mater and Lisa Merton.