Photo credit: Lisa Merton
Deforestation is a major contributing factor to climate chaos, biodiversity loss, soil damage, water pollution, and the destabilization of forest dependent communities. Yet U.S. and global energy and climate policy and practice increase the demand for industrial biofuels and wood, placing forests under threat and pressure. We cannot increase the demand for wood and believe that we will reduce deforestation. We cannot replace forests with genetically engineered (GE) trees and and protect genetic diversity of forests. We cannot replace biodiverse forests with monoculture tree plantations, reliant on pesticides and fertilizers, and imagine that we are protecting soil and water quality, providing essential habitat for biodiversity, or healthy livelihoods for people.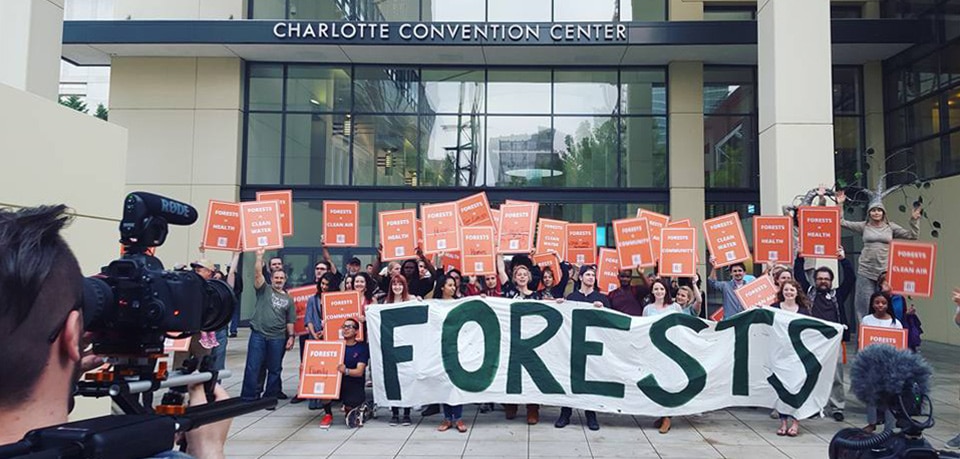 Simply put, we must choose. GE trees and tree plantations are no substitute for the myriad complex functions of a forest. A true forest is a wonderful, magnificent wild of the known and unknown and cannot be replaced. Ceres Trust provides support to organizations and movements that protect forests for us all.
Trees, Trash and Toxics: How Biomass Energy has Become the New Coal, a report by the Partnership for Policy Integrity.
The Restoration of the American Chestnut (pdf): The American Chestnut faced devastation from a fungus (blight), introduced in 1904. After thirty years of traditional plant breeding, scientists have successfully developed a blight-resistant American Chestnut, with the first potentially blight-­resistant chestnuts harvested in 2005.
The BEAI Fund was born out of a shared recognition that in order for the environmental movement to be successful, it must support and resource grassroots groups to institutionalize community-based solutions to the ecological crisis. The BEAI will move $10 million towards advancing the climate and environmental justice movements.
As part of the Hurricane Maria recovery process, Trees That Feed were asked to supply trees. Since then, TTFF has been actively involved with Ridge to Reef, a certified organic farm owned by Nate Olive. TTFF supplies breadfruit saplings to Nate, who grows them to a sturdy size, then finds good forever homes for the trees. The trees go to farmers, not-for-profit organizations and the University of the Virgin Islands.
McIntosh S.E.E.D: Community Forest
McIntosh S.E.E.D.'s 1,148-acre forest was acquired in 2015 in partnership with The Conservation Fund and is the first Black-owned community forest in the US. Through the educational work it does onsite, the nonprofit aims to amplify the voices of Black and Brown landowners in the conservation movement. Read more...
The Justice First Tour called for a strong network of grassroots organizations working together to advance climate justice and forest protection, with a focus on 100% clean energy for 100% of the people. The 2018–2019 tour and follow up activities engaged over 300 organizations in 25 cities and 12 Southern States.
Taking Root: Wangari Maathai
Taking Root: The Vision of Wangari Maathai is an in-depth film about Kenyan Nobel Peace Prize Laureate Wangari Maathai.  Made during the last decade of her life, the film portrays how her act of planting trees, along with her commitment to education and the empowerment of women, grew into a nationwide movement for environmental and human rights. Directed and produced by Alan Mater and Lisa Merton.