Ceres Trust provides support for efforts that further Hawaiian knowledge, culture and the use of the Hawaiian language; the perpetuation of Hawaiian resource management and governance; and the rights of Hawaiians to environmental health, justice and sovereignty.
"Intact native communities like Molokai who provide an honored place for their kupuna (elders); cherish their kamali`i (children); maintain a sense of community and kuleana (sacred responsibility) to each other and to their place are as kīpuka (oases) in an increasingly unfriendly world. Like the kīpuka that serve as islands of abundance where vegetation gathers and bores through hardened lava beds, some native communities persist and serve to teach us how to return to ourselves and restore our relationship with each other and the natural world. These kīpuka are the seed-bearers, ready to plant the pulapula (seedlings) that come from the collective `ike (knowledge) passed from the elders. As the world grapples with the consequences of excess, it searches for these kīpuka to learn how to live pono (in right relationship)." ~Sustainable Moloka'i
Video Resources of Interest
Sustainable Molokai : "An Island in the Pandemic"
Produced by Emmy Award winning filmmaker Matt Yamashita
Awaiaulu at Washington Place 2019 - Part 1
Awaiaulu at Washington Place 2019 - Part 2
Molokai - Legacy of Aloha 'Āina
Hui O Kuapa - Hawaiian Learning Center, Molokai
Jerry Konanui on Kalo, Biodiversity, Ancient Wisdom, and Modern Science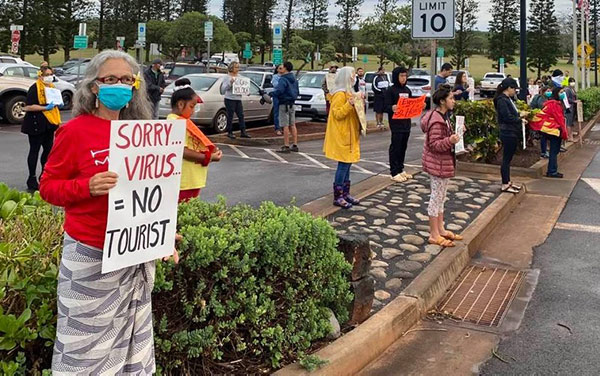 When COVID-19 first hit Hawaiʻi in early March, our team immediately took steps to prepare for the virus to hit Molokai's shores, foreseeing that it would negatively impact the island's access to essential items. Noting that the virus disproportionately affects elderly, indigenous and Pacific Island communities, and that Molokai has few medical resources on island, we saw the need to take action early and help prevent the spread here.
Read More

→